The First Known Breeders of Working Lagotto Romagnolo in Canada
Registered DCKLAGOTTO – representing their kennel, Lagotto Romagnolo of Canada, at Duckett Truffieres.
Click here for more info on 2016 Lagotto Puppies now available with Reserve Deposit.
August 4th Lagotto Day in Canada
Ducketts are proud and pleased to welcome two additions to our "Scent to Search" Team – Bella Fiore Dolcezza Tesoro (Chocolate) and DCKLAGOTTO Winalla Pride (white with brown)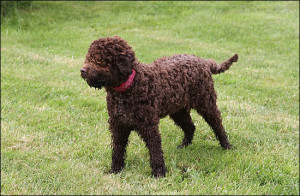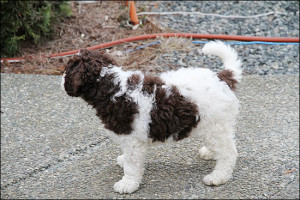 Upon extensive searching lineage globally in 2015/16, it has been apparent some Breeders are lacking in Health Protocol. In selecting your Lagotto, due diligence is extremely important. Choose a Breeder that is BFJE Clear, OFA Good Hips/Elbows/Eyes, Tested Good Coat (no short coat genes), LSD Clear, and conforming in all regard. Do not overlook the Health Protocol, insure your lagotto is coming from a home/kennel that is clear of Toxoplasmosis, Giarda, Coccidi and has a Health Certification. It not alright that your puppy/dog looks good and is from a Champion lineage if it is diseased or contaminated. such improper health may well cause years of grief for your lagotto, shorter lifespan, not to mention health costs, inconvenience etc. Always look for a reputable Breeder.
With Lagotto rare in Canada, we do not have old enough Breeders to put all our trust into good health without Vet certification, being on a Club does not guarantee good health or conformity. Ducketts are the oldest breeder of working lagotto in Canada, situated in Parksville, BC at Lagotto Romagnolo of Canada. Ducketts raise few, those they do, they insure Vet Certification and have excellent testing results. Registered with the Canadian Kennel Club, Canada's trusted Club overseeing the well-being of Registered Dogs for over 125 years. Ducketts Lagotto are Registered DCKLAGOTTO – representing their kennel, Lagotto Romagnolo of Canada, at Duckett Truffieres.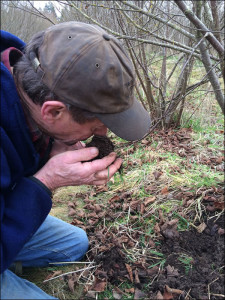 Ducketts at our Lagotto Romagnolo of Canada Kennels were thrilled to view National Geographics documentary called "Museum Secrets", explaining our Truffling Lagotti with points of training for the truffle hunt (cavage)
Click here to download a brochure about Lagotto Romagnolo Truffle Dogs.
Duckett's continue to lead in the revival of Lagotto and are pleased all available 2015 Lagotto puppies have been placed in wonderful homes for service, pets, show and breeding.  Older Lagotto trained in "scent to search"  and "companion" are available with approved Application.

2016 NEWS:

ANNOUNCEMENT – PUPPIES AVAILABLE – 1st pairing in Canada of these two Champion Lineages, Premium Gd Hip, JE Clear, Vet Health Certified, under Vet Health Protocol,and Registered. Reserves are coming in, send your Puppy/Dog Application early.  Thousands of new trees have been planted into the plantations, now in 2016 nursing years begin to bring them to production.

DCK Angelus mei Florian has been placed in an awesome home where he will continue his "scent to search" and breeding duties.

Click here to Download Our Puppy/Dog Application Form.

We are currently placing puppies in approved homes for companions, service,  show and breeding dogs.  Quantities are VERY limited. Get your application in NOW.
Lagotto Romagnolo of Canada Kennels are proudly and diligently breeding and raising the best healthy and fully conforming Lagotto Romagnolo dogs in Canada for detection, working companionship, or breeding purposes. Our active truffle plantation provides the best possible breeding environment and opportunities to prove the abilities of our Canadian bred working Lagotto dogs.
Lagotto Romagnolo of Canada are Registered Breeders of Canadian Lagotto Romagnolo and proud members of the Canadian Kennel Club and The Fédération Cynologique Internationale (The World Canine Organization).
We were privileged and delighted to be have been selected to showcase this new Lagotto Breed Standard in Canada to the CKC/CDJA Educational Judges Conference in 2012. Lagotto Romagnolo of Canada conformation guidelines were presented by Beatrice Duckett. The breed, Lagotto Romagnolo is now an accepted CKC breed, under "Sporting Dogs", and is open for showing in events in Canada.
Lagotto Romagnolo of Canada Conformation Guidelines as presented at CKC/CDJA Educational Conference 2012, (including Working Lagotto photo display), in .pdf format.
To translate pdf documents, first download and save the document, then use Google Translate.
NOTE: This document is provided for personal use only. Permission is not granted to use the images or contents online, in publications or in any other way.
For more information about working Lagotto please visit DuckettTruffieres.com, home of Lagotto Romagnolo of Canada.